Les enfants d'ici et de là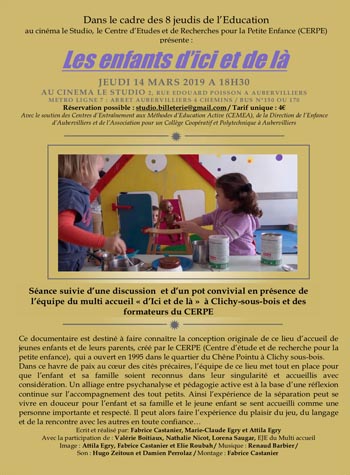 Documentary for CERPE Education directed by Fabrice Castanier, Marie-Claude Egry and Attila Egry produced by CERPE (DVD, 2019)

This documentary is intended to make known the original conception of this place of reception of young children and their parents, created by the CERPE (Center of study and research for the early childhood), which opened in 1995 in the district of le Chêne Pointu in Clichy sous-bois.
In this haven of peace in the heart of precarious cities, the team of this place puts everything in place so that the child and his family are recognized in their singularity and welcomed with consideration.
An alliance between psychoanalysis and active pedagogy is at the basis of a continuous reflection on the accompaniment of toddlers.
Thus, the experience of separation can be lived smoothly for the child and his family and the young child feels welcomed as an important and respected person. He can then experience the pleasure of play, language and encounter with others and with confidence.
Comptine et caetera_Credits