Starfucker – 60 seconds to die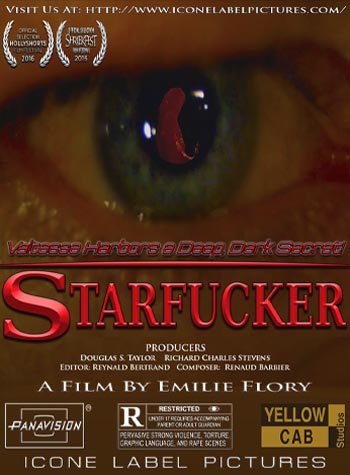 Short film directed by Emilie Flory (Giallo–Horror, 2016). 60 Seconds to Die : The Movie A Short Horror Film Anthology featuring 60 short horror films from established and upcoming indie filmmakers from across the globe ! 60 Seconds to die is a new horror anthology with a twist ! Every short featured in the film is exactly a minute long ! No longer or shorter !
An up and coming pop star who has just finished a gig and gets ready to meet her lover is about to take a bath while a killer peeping tom looks on…
But the prey is not always who we think she is : because the provocative Valtesse harbors a deep, dark secret.
Production : http://www.iconelabelpictures.com/
Official Selection at Shriekfest 2016 Film Festival (CA, USA)
Official Selection at Tripple Six Horror Fest 2017 (Manchester, UK)
Movie Trailer Sylver Award 2017 from Hollywood Independant Filmmaker Awards and Festival sponsored by Paramount Studios (CA, USA)