Small Country, An African Childhood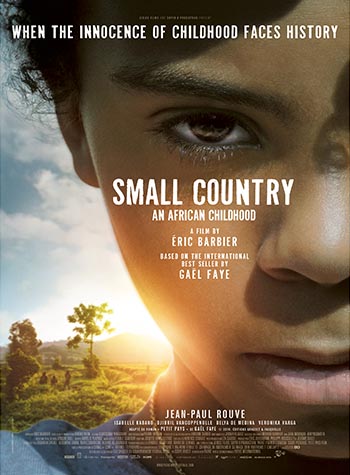 Feature film adaptated from Gael Faye's novel starring Jean-Paul Rouve, Isabelle Kabano and Djibril Vancoppenolle directed by Éric Barbierproduced by Jerico Productions and Pathé (Drama, 2020)
Burundi, 1992. For ten-year-old Gabriel, life in his comfortable expatriate neighborhood of Bujumbura with his French father, Rwandan mother and little sister Ana, is something close to paradise.
These are carefree days of laughter and adventure – sneaking Supermatch cigarettes and gorging on stolen mangoes – as he and his mischievous gang of friends transform their tiny cul-de-sac into their kingdom.
But dark clouds are gathering over this small country, and soon their peaceful existence will shatter when Burundi, and neighboring Rwanda, are brutally hit by civil war and genocide.
Awards :

Best Film 2021 from Barcelona-Sant Jordi International Film Festival (Spain)
Best Actress 2021 from Barcelona-Sant Jordi International Film Festival (Spain)
Special Mention 2021 from Barcelona-Sant Jordi International Film Festival (Spain)